In the esports industry of today, with sponsors, money, and millions of viewers, it's easy to forget that less than two decades ago, esports was widely viewed as nothing more than a fringe hobby. But during one fateful match of the Evolution Championship Series 2004, in the tournament semifinals of Street Fighter III: 3rd Strike, players Daigo Umehara and Justin Wong delivered an experience so historic that the esports narrative was forever changed.
In what's come to be known as "Evo Moment 37" or "The Daigo Parry," Umehara and Wong made esports history, but to understand why, it's important to understand the state of esports at the time. With the advent of the internet during the '90s, gamers found themselves thrust into the world of online play. Suddenly able to compete remotely, the gaming industry—and the world as a whole—found itself connected like never before, leading to a new age in competitive gaming.
Following the 1997 Asian Financial Crisis, large numbers of newly-unemployed people with a lot of extra time on their hands flooded into internet cafes and LAN gaming centers across East Asia, setting the stage for the founding of the Korean Esports Association, or KeSPA. This branch of South Korea's Ministry of Culture, Sports, and Tourism is dedicated to regulating esports and was founded in 2000.
It's due to the development of KeSPA and the association's international counterparts that the Evolution Championship Series, or Evo, was able to grow from a Southern California fighting game tournament to an annual esports event of international import.
In 2004, Evo carried out its sixth tournament, hosting 700 players from around the world on the campus of California State Polytechnic University. It was a year of firsts for the series, transitioning from a double elimination-style tournament to a round-robin/double elimination pool-style. Additionally, the tournament transitioned from arcade boxes to video game consoles, with each players using their own controller.
The one exception to this transition was the Street Fighter III: Third Strike tournament. Due to a delay in the console release of the Street Fighter Anniversary Collection, the Street Fighter III tournament would still be played using arcade hardware.
Among the 700 international competitors participating in Evo 2004 were Daigo Umehara and Justin Wong.
Daigo Umehara is a Japanese gamer specializing in 2D fighting games, officially becoming a professional upon signing a sponsorship deal with Mad Catz Interactive in 2010. He currently holds the world record of "the most successful player in major tournaments of Street Fighter" according to the Guinness Book of World Records.
Justin Wong, or Jwong, is a Chinese-American gamer who has gone on to win the most Evolution Championship Series titles of anyone. However, in 2004, both he and Umehara were still years away from signing any sponsorship deals, nevertheless making any records.
Though they hadn't officially played against one another, the two were known to hold opposing ideals and philosophies when it came to gaming. As fate would have it, Umehara and Wong would face off in the loser's finals of the Street Fighter III: Third Strike tournament.
With Umehara playing as Ken and Wong playing as Chun-Li, the two competitors each won a round, leading to a third round tie-breaker. While Umehara has a reputation for utilizing a more aggressive approach, Wong's strategy was to take his time and slowly deplete the life bar of Umehara's Ken.
When Umehara was down to his last pixel of life, all Wong needed to do was run out the clock. Instead, Wong chose to have Chun-Li finish Ken off with a round of her iconic Houyoku-sen special attack, consisting of multiple kicking hits. Since special attacks do damage even if they're blocked, it would seem that Umehara's only option would be to evade the attack.
Instead, Umehara chose the riskier move of an attempted parry, which would allow Ken to weather the attack without taking any damage. The difficulty of this method is that in order to parry effectively, the player must move their character towards the opponent at the exact same time the attack would land. This required Umehara to time his maneuvers with under a second's accuracy.
Since Chun-Li's Houyoku-sen attack is a multi-hit special, Umehara had to effectively time his parry not only for the initial attack, but for all 14 of the consecutive attacks that would follow. He did. Furthermore, on the final kick of the sequence Umehara was able to initiate a counter attack of Ken's special move—the Shippuu Jinraikyaku, a 12-hit combo in its own right—winning the round.
This come-from-behind victory was not only epic, it would prove to be groundbreaking. At one point in time, the moment now known as "Evo Moment 37" or "the Daigo Parry" was one of the most-watched competitive gaming moments ever. It's easy to see why.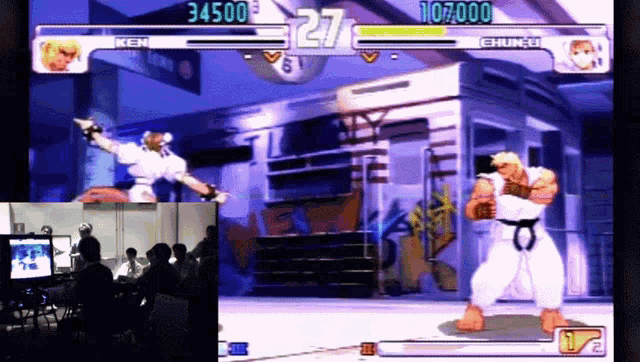 Complete with the uproarious response of the crowd, the 14-parry sequence has garnered comparisons to the 1982 NFC Championship as well as the U.S. Men's Ice Hockey Team's come-from-behind victory at the 1980 Olympics, aka the "Miracle on Ice." People have even written books about the famed moment.
At the time, Umehara was only 23 and Wong was only 19. It's no wonder both would go on to sponsorships and records; the two made history and caused people to consider esports with the same regard they consider the triumphs of more traditional sports.